Extrusion, blow moulding, thermoforming and other technologies allow increasingly efficient and performing machining processes. The recycling systems "close the loop", giving new value to materials.

Lightweight, versatile and environment-friendly, plastic materials have always been the focus of food and non-food packaging, in a process of evolution that never stops, where the role of biodegradable and compostable polymers is growing steadily.

The future of polymer packaging materials is closely linked to their ability to meet the criteria of the Circular Economy which involves the transformation of waste into a valuable resource.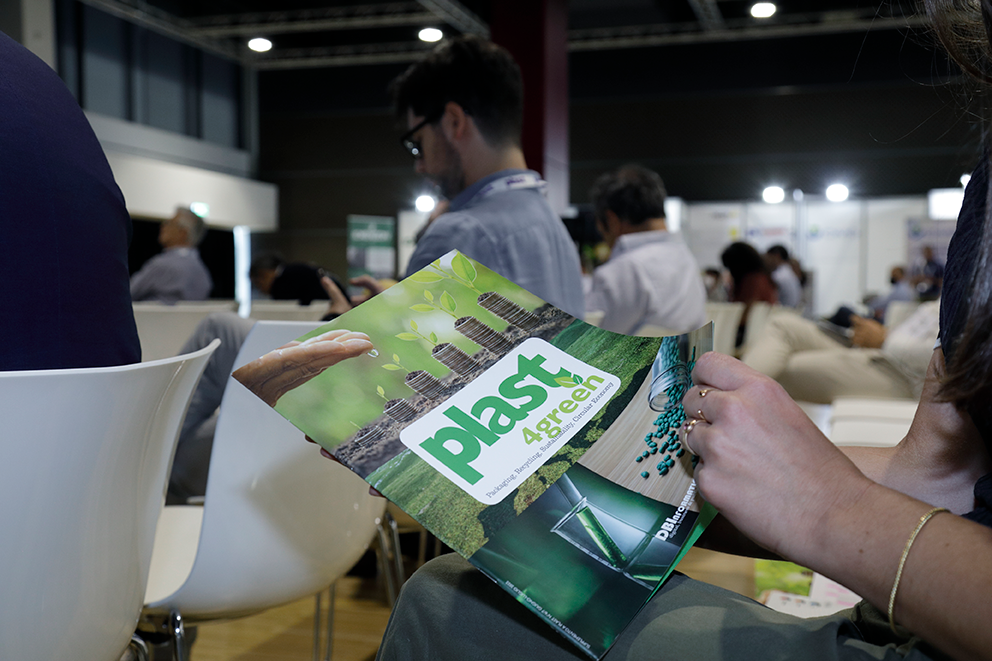 PACKAGING & RECYCLING 2023
Packaging & Recycling 2023 is the forum for packaging and recycling companies, an event that industry operators cannot absolutely miss. Now at its sixth edition, Packaging & Recycling 2023 is dedicated to plastics packaging and its lifecycle, from design to post-consumer recycling. In a context in which plastic packaging has come under the scrutiny of the public opinion and the media, Packaging & Recycling 2023 will stand out for the quality of its contents. In this field, the ability to keep pace with times plays a decisive role for packaging manufacturers, recyclers and technology suppliers looking for new solutions capable of combining high performance with respect for the environment.

Packaging & Recycling 2023 will see the participation of top figures from the world of research, universities and major brand owners who will illustrate their strategies in the field of packaging and the evolution of consumer preferences. In the past editions, a number of leading companies took part in the event such as Coop, Ferrarelle, Ferrero, Galbani, Heinz, Henkel & Nestlè.
FIRST DAY
21 GIUGNO
FREE
Free ticket for the 1st day of the conference only
BUY NOW
SECOND DAY
22 GIUGNO
FREE
Free ticket for the 2nd day of the conference only
BUY NOW
FULL CONVENTION
21-22 GIUGNO
85,40€
Full ticket for the two days of the conference
BUY NOW
Participants who register as free attendants to the conference will have to pay for the lunch.
On 22 May it will be possible for them to have lunch at the Ristorante Caffè Alfa Romeo, choosing between the menu of the Bar (sandwiches and hamburgers) or the Lunch Buffet. It is recommended to buy the lunch ticket by booking it directly at the Ristorante Caffè of the Museum already from the morning of 22 May,
starting at 9:30 am, to avoid queues at the cash desks.
Event Schedule
WEDNESDAY, 21 JUNE 2023

13:20

REGISTRATION

14:05

Opening speech:




Paolo Spinelli,

Editor-in-Chief

PLAST

14:15

ETICPACK: SUSTAINABLE PACKAGING FOR COSMETICS




Marco Scatto

,

Technology Transfer Expert / Polymer Scientist

- MARCO SCATTO

14:30

COMPLETE PATENTED SYSTEMS FOR A CIRCULAR ECONOMY




Davide Bolzonello

,

Sales Manager Recycling and Filtration

- MAAG ITALY

14:45

INNOVATION AND EVOLUTION IN THE RECYCLING OF POLYLAMINATE PACKAGING




Stefano Richaud

,

CEO

- ECOPLASTEAM

15:00

Coffee break

15:30

BREAK DUO: HIGH-PERFORMANCE CONSTANT PRESSURE FILTRATION SYSTEM




Alessandro Sartori

,

Chief Technology Officer

- BREAK MACHINERY

15:45

GREEN ECONOMY & INNOVATION: BENEFITS OF CIMBRIA OPTICAL SORTING TECHNOLOGIES FOR POLYOLEFINS AND POLYSTYRENE PROCESSING AT FOREVER PLAST SPA




Lorenzo Tinti

,

Italy Sales Manager

- CIMBRIA

16:00

A NEW PROPOSAL FOR A EUROPEAN REGULATION ON PACKAGING: LATEST UPDATES AND PERSPECTIVES FOR EUROPEAN PLASTICS PRODUCERS




Eleonora Pasetti

,

EU Policy Manager

- PLASTICS EUROPE

16:15

TRAY-TO-TRAY FOR BLOCKCHAIN TECHNOLOGY




Swan Cecatto,

ESG Manager - AMB;

Emmanuele Bianchini,

General Plant Manager - Benevento B.For Pet Srl Società Benefit;

Riccardo Parrini,

CEO - PLASTIC FINDER

16:30

PANEL DISCUSSION:




THE EVOLUTION OF PACKAGING IN THE LIGHT OF THE EUROPEAN REGULATION ON PACKAGING AND PACKAGING WASTE

Marco Balbiano, Plant Director & CIO, Acqua Sant'Anna
Raffaele Bombardieri, Responsabile R&D Packaging, Granarolo
Enzo Favoino, Coordinatore scientifico campagna "A Buon Rendere"
Luigi Garavaglia, Quality Assurance - R&D Manager, Ilpa;
Presidente PET Sheet Europe
Eleonora Pasetti, EU Policy Manager, Plastics Europe
Massimo Centonze, CEO – ITP e presidente - AIMFLEX

17:30

END OF DAY ONE




THURSDAY, 22 GIUGNO 2023

9:00

REGISTRATION

09:30

Opening speech:




Paolo Spinelli,

Editor-in-Chief

PLAST

09:45

RECYCLASS: THE EUROPEAN METHOD FOR ASSESSING THE RECYCLABILITY OF PLASTIC PACKAGING AND CALCULATING RECYCLED PLASTIC CONTENT




Fabrizio Di Gregorio

,

Technical Director

- PLASTICS RECYCLERS EUROPE/ Head - RECYCLASS
THURSDAY, 22 GIUGNO 2023

10:00

BANDERA RECYCLING, STATE-OF-THE-ART TECHNOLOGY FOR HIGH-QUALITY MATERIALS - SUCCESS STORIES




Pietro Zanotto

,

Area Sales Manager

- COSTRUZIONI MECCANICHE LUIGI BANDERA

10:15

Speech by:




Giovanni Albetti

,

Director - Coripet

- CORIPET


10:30

THE IMPORTANCE OF FLATNESS IN THE PRODUCTION OF BUBBLE FILMS




Matteo Mogno

,

Area Manager

- CONTREX


10:45

GREENSIDE: SUSTAINABLE INNOVATION IN FLEXIBLE PACKAGING




Ludovico Tomasi

, R&D Specialist

- CROCCO


11:00

Coffee break

11:45

STEP CHANGE IN THIN WALL PACKAGING WITH RPET




Gabriele Spina

,

PAC Sales Manager

- ENGEL Italia


Tiziano Andreini

,

Managing Director

- ALPLA ITALIA e PLASCO


12:00

SUSTAINABILITY, CIRCULAR ECONOMY AND POST-CONSUMER MATERIALS: GREEN SOLUTIONS FROM THE UNION GROUP




Alberto Colnago

, Sales Manager

- COSTRUZIONI MECCANICHE TECOM

12:15

POINT PLASTIC'S SOLUTION FOR A CORRECT CIRCULAR RECYCLING OF A-PET TRAYS




Tonino Severini

,

CEO

- POINT PLASTIC

12:30

CIRCULARITY ACCORDING TO FAERCH: MAPET II® AND WRAPET® SOLUTIONS FOR SUSTAINABLE PACKAGING




Simone Tirelli

,

Project Manager – Tech. Dept

- FAERCH

12:45

Lunch

14:15

RECYCLED PLASTICS AS A SOLUTION TO PACKAGING PRODUCTION PROBLEMS




Pavel Andrushchuk

, Division Manager – Recycling - PIOVAN

14:30

50% LESS PLASTIC WASTE AND 100% PERFORMANCE TRIPLE BUBBLE® ENABLES RECYCLING




Erhan Haykircan

,

Sales Manager e




Heiko Schenck

,

Project If

- KUHNE

14:45

ALIPLAST, A CIRCULAR APPROACH TO PACKAGING FOR OVER 40 YEARS




Paolo Glerean

, Sales Manager - ALIPLAST

15:00

CLEANCHANGER: CONTINUOUS INNOVATION AND PRODUCTIVITY




Sebastiano Lodi

,

R&D and Technical Department Manager

- BD PLAST FILTERING SYSTEMS

15:15

BOFROST*, HOW TO HANDLE PLASTIC PACKAGING




Michele Muner

,

Packaging Manager

- BOFROST* ITALIA

15:30

END OF CONFERENCE

15:45

Visit to Museo Storico Alfa Romeo
The leading players:
Producers of polymer raw materials (PE, PP, PET, PS, EPS, biopolymers, masterbatches, additives etc.) and plastic recyclers.
Manufacturers of food and non-food packaging.
Manufacturers of plants and equipment for the production of multi-layer film and rigid and flexible plastic packaging (film, sheet and plate extrusion lines, thermoforming machines, container blow moulding machines, automation, components, etc.).
Suppliers of post-consumer packaging recycling plants and systems.
Trade associations and other industry bodies
Brand owners that use food and non-food packaging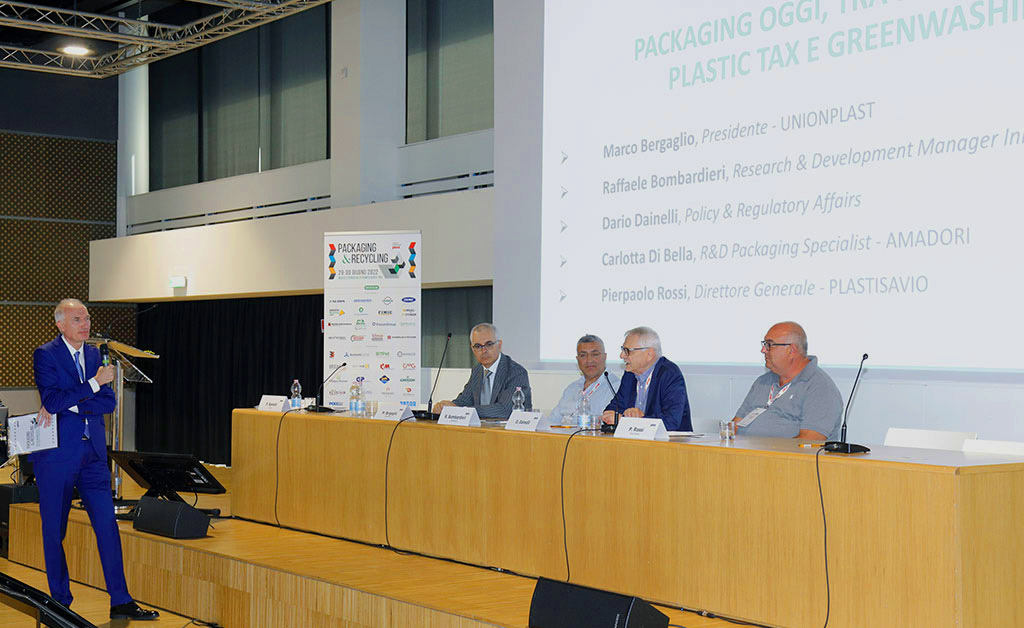 GALLERY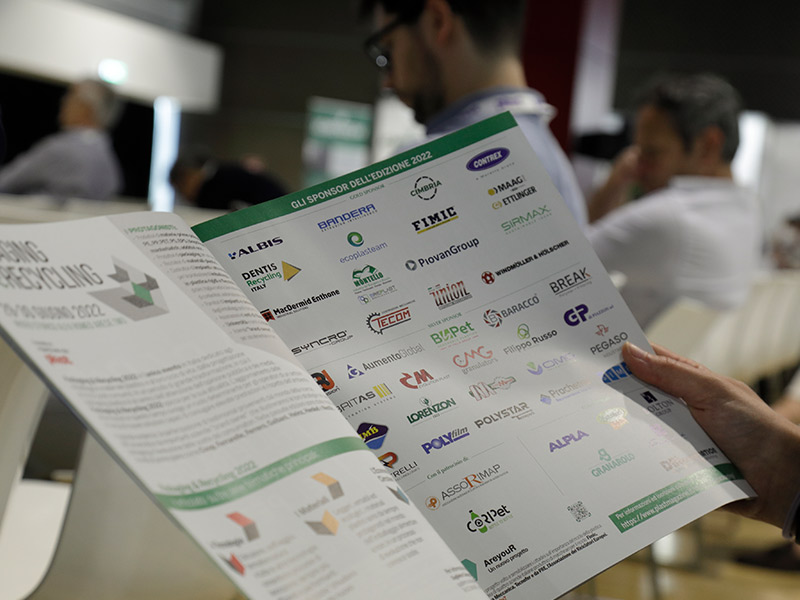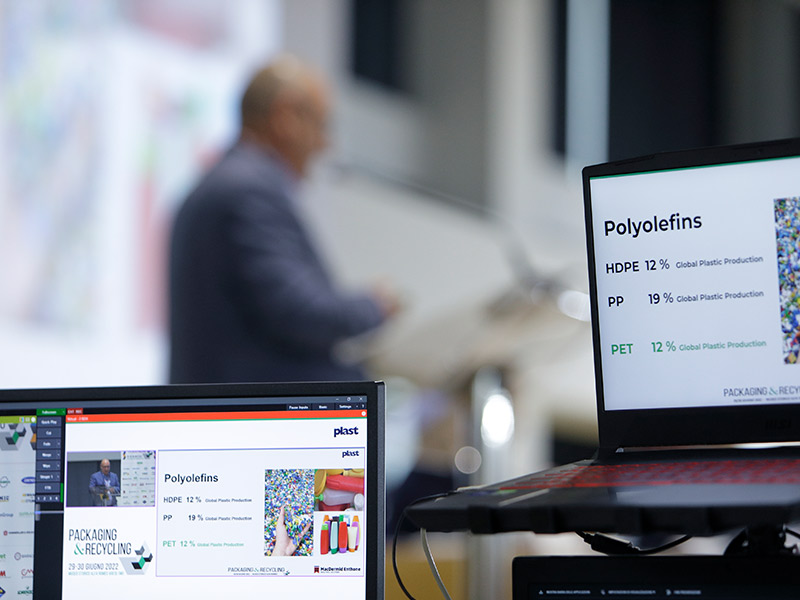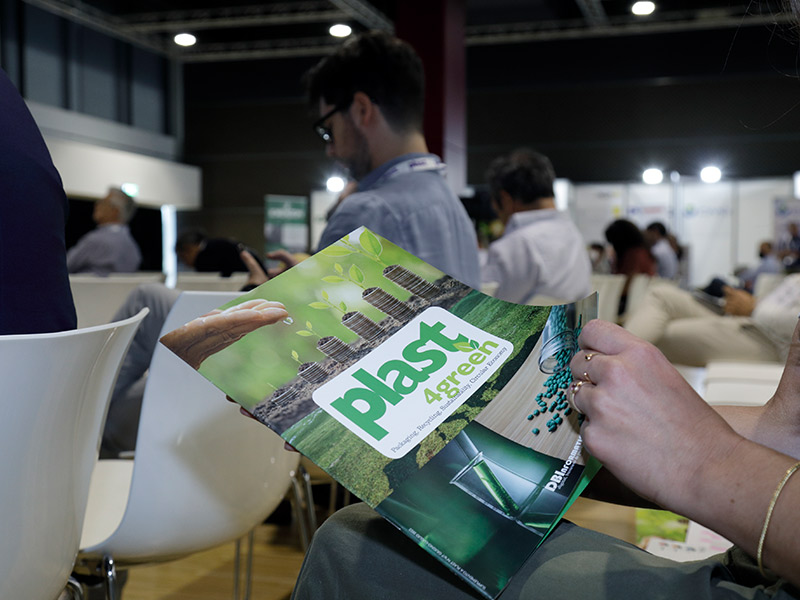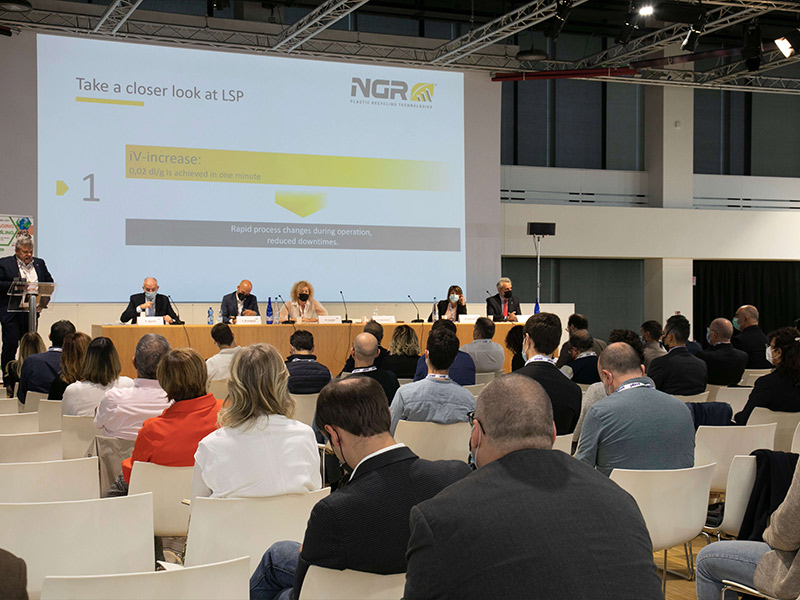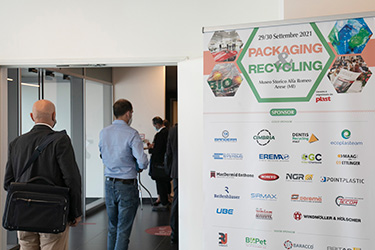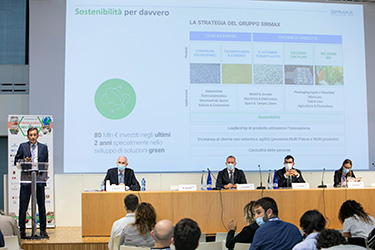 EVENT LOCATION
The Museo Alfa Romeo tells the legendary story of the brand, via a project and an installation designed to reflect its values: historical presence, beauty and speed, an essential part of the Alfa Romeo Dna. As the visitors admire car after car, they travel through the company's glorious history and also discover stories and curious facts with the help of videos, images and interactive access points, in a crescendo of emotions.
HOW TO GET TO THE MUSEUM
MUSEO STORICO ALFA ROMEO
viale Alfa Romeo, 20020 Arese (MI) - Italy - tel 02 444 255 11 - info@museoalfaromeo.com
The Alfa Romeo Museum can be reached by several routes: from the Arese/Lainate exit from the A8/A9 Lainate-Como-Chiasso and Milan-Varese motorways to the lakes; from the A4 Turin-Milan-Venice motorway; from the western Milan ring road that continues southwards with the A1 Milan-Rome-Naples and A7 Milan-Genoa motorways.
BY PUBLIC TRANSPORT

The Museum is 15 km away from the city centre of Milan and can easily be reached by public transport.

Take the train or metro line M1 until the station of Rho-Fiera, then take bus line 561 Airpullman, destination Arese, which stops right in front of the Museum (the bus service is active 7 days a week. Tickets can be bought at the station of Rho-Fiera or at the ticket machine)

Download Bus Timetables in PDF (LINK https://www.museoalfaromeo.com/it-it/news/Documents/tabella.pdf)
BY CAR

The Museum is close to the Lainate/Arese exit on highway A8.
Alternatively, it can be reached from provincial road SP 233 Varesina and state road SS 33 del Sempione.
PARKING

Free parking for conference participants (subject to availability)
HOTEL & ACCOMODATION
IN CONVENTION WITH PACKAGING & RECYCLING